Careers are built over time and have to start somewhere. Starting a career journey can be intimidating but with hard work, good communication, stepping out of comfort zones, integrity, follow-through, meeting deadlines, and asking questions, careers can launch.
Daquan Pack is a Commercial Plumber with Ames Mechanical. He is a graduate of Thaddeus Stevens College and has become a valuable member of the Ames Mechanical team. He speaks about the value of hard work, good communication, stepping out of comfort zones, integrity, follow-through, meeting deadlines, asking questions.
Daquan will be presenting to Thaddeus Stevens summer students, sharing his thoughts on how these the power of building and demonstrating employability skills has helped him to succeed in the classroom, on the job, and in life.
What are your employability skills? How do you demonstrate them on a daily basis. Meet Daquan and explore High Five – Career Ready Lancaster!. Reflect on how these sought after skills, together with technical training can launch a career for you.
Introducing … Daquan Pack
Commercial Plumber – Ames Mechanical
2020 Thaddeus Stevens Grad, Associate Degree – Plumbing Technology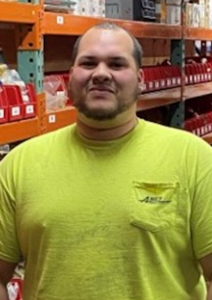 When did you start with Ames Mechanical?
I did a summer internship in 2019 and started full-time in May of 2020.
What does a typical day look like for you?
I usually arrive at the shop at 6:00 AM, get instructions from my supervisor, Todd, and then head out with some of our team to whatever location I'm working at that day. I typically return to our shop at around 3:30. Locations and job stages/duties can vary and sometimes I work nights as well.
What do you enjoy most about your job?
I like seeing the progress through different stages of a project, from rough ins to finish out. It's very satisfying to see a finished job and know that I was part of making that happen.
What have been the most difficult challenges related to your job?
Adapting to different working conditions can be tough. Working in a heated space one day and then maybe out in the cold the next. Also, sometimes near the end of a job when there is a deadline the job-site can get very crammed and hectic.
How has your Thaddeus Stevens education helped you at Ames Mechanical?
It gave me the skills to succeed as an entry-level apprentice. I was also taught to understand the value of doing the work right, taking pride in what I do, and giving my best effort.
Any advice that you would offer to current Thaddeus Stevens students?
Don't be scared to take a step and get out of your comfort zone. Ask questions and get tips from experienced people in your trade. And most importantly, have integrity and take pride in what you do.
What do you like to do when you're not working?
I like hanging out with family and friends and working on cars.
Daquan came to us with a degree from Thaddeus Stevens, and a strong work ethic. He has become a valuable plumber in a short amount of time. He learns quickly and takes on challenges with confidence. His team-player approach to Ames Mechanical has made us even more aware that Thaddeus Stevens is a great resource for talented and dedicated new hires.
Todd Ansel – Plumbing Supervisor, Ames Mechanical