We need YOU! Your business is an essential part of the Lancaster County economic landscape. Career Ready Lancaster! was born out of a desire to connect job seekers to your opportunities. More than employment, workers are seeking the stability of long term career opportunities in our incredible business community.
We partner with local businesses in the following ways:
We let businesses know how to partner with schools: Our schools provide career education opportunities and love having businesses who can partner to help connect students with careers.
We promote The High 5 in schools throughout Lancaster City and County. The High 5 curriculum equips your future employees with the soft skills necessary for any career. We also encourage our business partners to adopt the High 5 language. By using the High 5 throughout our schools and businesses, our community will establish a common understanding on what it means to thrive in Lancaster.
We aim to inspire effective business and education partnerships, introducing students to your industry or business through creative and shared approaches. These include: Career Awareness and Preparation, Career Acquisition (Getting a Job), Career Retention and Advancement, and Entrepreneurship. Working together with our partners, we show students career possibilities that they didn't even know existed! PA Career Ready
We celebrate promising practices by promoting strategies that build a strong talent pipeline. If you have an idea, let's make it happen!
We inspire partnerships between businesses and students with Inspire Lancaster.
We facilitate connections between school personnel and businesses, so your company never has to wonder who to call to promote job fairs, job opportunities, shadowing invitations, internships, apprenticeships, or career mentoring. View Directory
Resources to Fill Your Pipeline!
Career Ready Lancaster seeks to connect people to careers. Career seekers and students can explore career opportunities and put a face to the future of their career. Want to be featured as an employer in Lancaster at CRL!? There are just two easy steps to partner with us:
Sign up for Edge Factor, a rich career exploration platform that brings careers to life through movies, videos, and interviews with employees.
Then, reach out to us to be featured on our business spotlight series (form below). Here's an example of what that looks like:
Example Business Spotlight:
Career Inspiration Videos: How To
Check out the start of a countywide collection of career journeys, started by friends of Career Ready Lancaster. Career Inspiration – Career Ready Lancaster! We would love to have a large collection of career journeys that represent all the different career paths in Lancaster County. We invite you to share your career journey, either through a 2-3 minute video or taking our survey.
For the survey: Simply answer all the questions — your story matters and we can't wait to add it to our collection. Then, send a vertical headshot or selfie to kpatrick@lancastercountywib.com.
For the video: Use your phone, hit "record" and tell your story, or if you need some ideas of what to share, you can refer to the questions below. Email your completed video to kpatrick@lancastercountywib.com and please include a Selfie (vertical) at the beginning or end of your video.
Questions:
What kind, if any, education or training did you pursue in preparation for your career?
Did you have any internships or summer jobs that sparked your interest in a career direction?
How many jobs did you have before you got to this one?
How did past jobs relate, or not relate to what you are doing now?
What do you love about your career journey?
What would you tell your former self now about what their career path would look like if you could go back in time?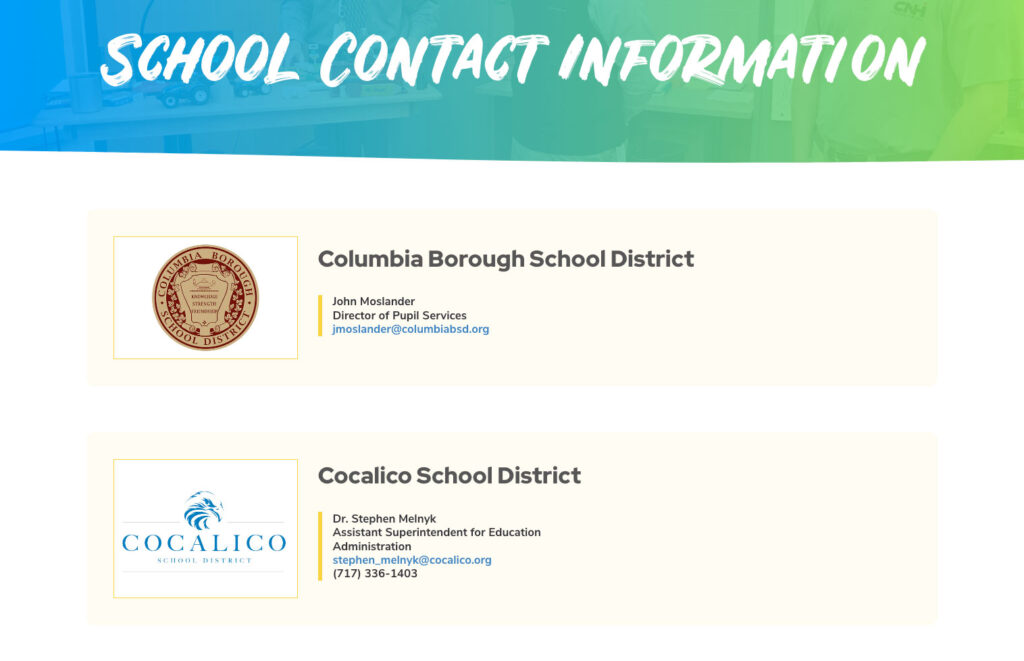 School Contact Info!
Make a direct connection to our partner schools.